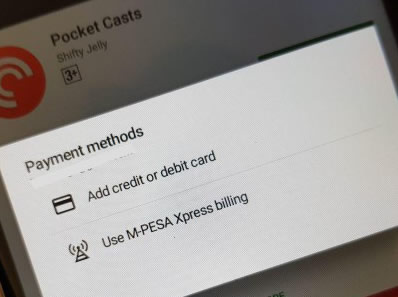 A thought of google play mostly resonates with android phone users; it is by far the biggest competitor to Apples app store and serves millions of users on a daily basis. Some of the visitors are of course Kenyans with android handsets. On the other hand, Mpesa is Kenya's biggest form of payments, and when it comes to making payments in Kenya, Safaricom's Mpesa mobile banking service is with no doubt what you'd expect anyone in the country to be using. It has an enormous base of regular users and loved for its convenient. For this reason, it makes perfect sense why Google – One of the world's biggest tech giant has finally jumped on to the bandwagon.
When google integrated Mpesa as a form of making payments on the play store, it became easier for users without visa cards, master cards or other credit cards to make payments for content and apps they like without a hassle. It's easier to use, convenient and most importantly familiar with almost any Kenyan owning a mobile phone.
The Mpesa platform on play store is managed by a Japanese based firm – DOCOMO which is Japan's largest mobile service provider. Looking back, lack of accessible payment options has hindered most Kenyans from purchasing items on a number of e-commerce sites that only accept cards.
How to Use Mpesa on Google Play Store
To start, android users need to head over to their account just to ensure "M-Pesa Xpress" is available as a form of making payments.
Select 'Account' – Payment Options – M-Pesa Xpress
Ensure M-Pesa Xpress is set as default
Then head over to the app you'd love to purchase
Select 'Buy' – you will be prompted to enter your MPesa Pin with the total amount to pay indicated against
Once the payment is successful, you'll receive a notification from both Google and Mpesa